Patrick and Sarah Tame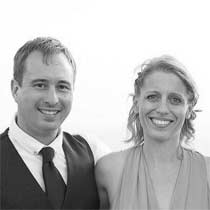 I first met Patrick just days after his business won the Most Effective Recruitment Marketing Campaign Award in the 2014 Recruiter Awards for Excellence. I'm not sure if the bottle of Bollinger I brought with me to congratulate Patrick was a factor but we started working together the following month.
Patrick got into recruitment after leaving the Army in 2003 and very quickly found his place in the world combining his fascination with business and love of people. A couple of years later and Patrick started his own recruitment firm growing from strength to strength.
At the time that we first met, Patrick was more interested in saving tax than anything else because he was, as he suspected, paying himself in a very tax inefficient way. But he also wanted to grow the business so it could run without him.
After describing how I would improve tax efficiency and going through the PROFITS Principles to show how we would create Patrick's ideal business running without him we quickly got to work.
Patrick had just got married to Sarah so it was perfect timing to restructure the business and the way they pay themselves from the company.
After ticking the tax saving box we all worked together on creating a long-term strategy plan for the business and agreed on the key steps that would need to happen to get there. This included systematisation, team recruitment and development, measuring the key metrics and improving them each month.
The hard work put in by Patrick, Sarah and their team is producing truly amazing results. We started working together in July 2014 and at the time of writing the business is ticking all of the boxes: Sales have increased by 22% to over £1m. Gross profit has increased by 50% and net profit has increased by 124%. Amazing result in such a short space of time!
Their team has doubled, a 100% increase and the company net cash position has increased by 130%.
Patrick and Sarah's pay has only increased by 9% but the business and their take home pay is now more tax efficient than before, with tax saved of over £28,900.
Patrick and Sarah are now working less and less in the office. From Patrick working until 6pm every night he is now finishing at 3pm most days and some days if there is nothing to do he will leave even earlier. They return from holidays without hundreds of emails because they have all been taken care of while they were away. Visits to see clients in London haven't happened for over six months when they used to be a weekly occurrence. Recently Patrick took a week off on a whim and left the team to continue their great work without him.
Their quality of life has greatly improved while maintaining their high personal income from the business.
Patrick, a creative genius and natural leader, and Sarah, a grounded and thoughtful realist, are an inspiring duo with one complementing the other and they really deserve their success.
Comments
comments